How to invite the same reviewers for a second round of reviews on a paper
[NOTE: This feature is only available on events created after November 3rd 2022. If your event has been created before this date, please read this article.]
Once a paper has been submitted and reviewed, you can view all the scores and comments in the back office. The average score from each reviewer can be seen under 'Score' (1) , and the average of these scores can be seen under 'Peer Reviews' (2).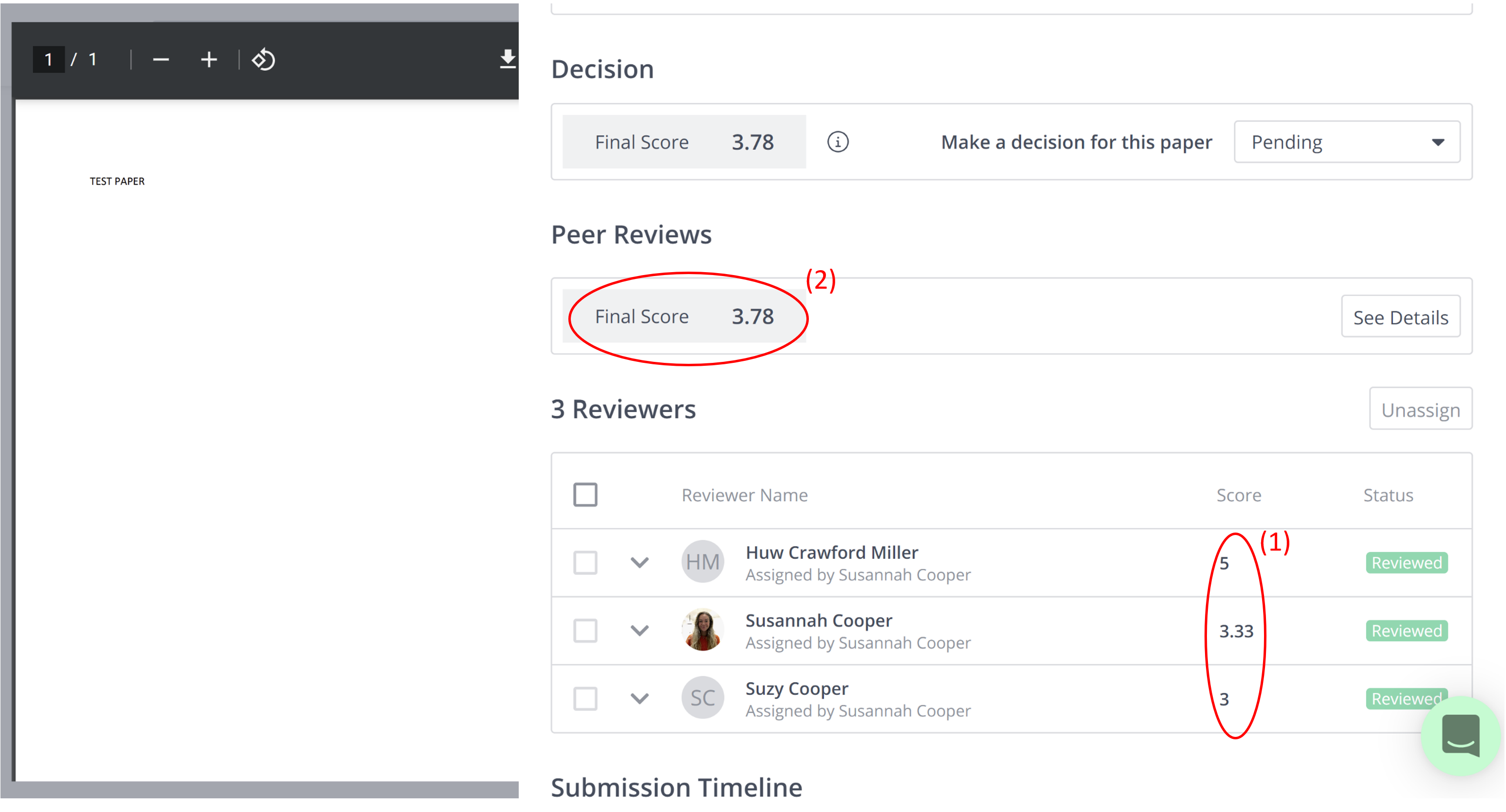 By clicking the drop down arrow next to the reviewers name (1) you can view the individual breakdown from each reviewer, including their comments on the paper (2), as shown: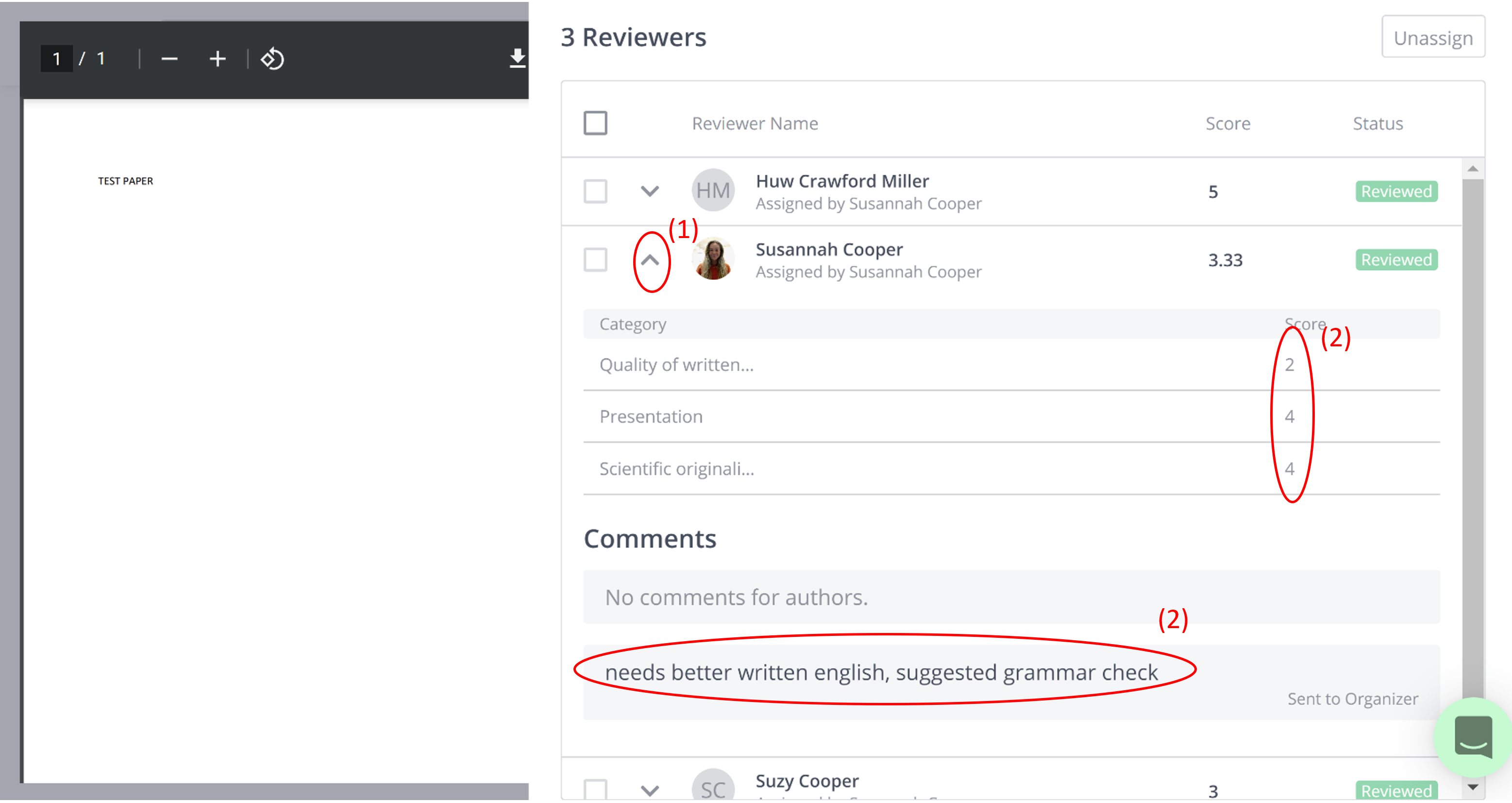 You can then decide to request changes for the author to make by changing the status of the paper to 'Changes Requested' form the drop down menu here: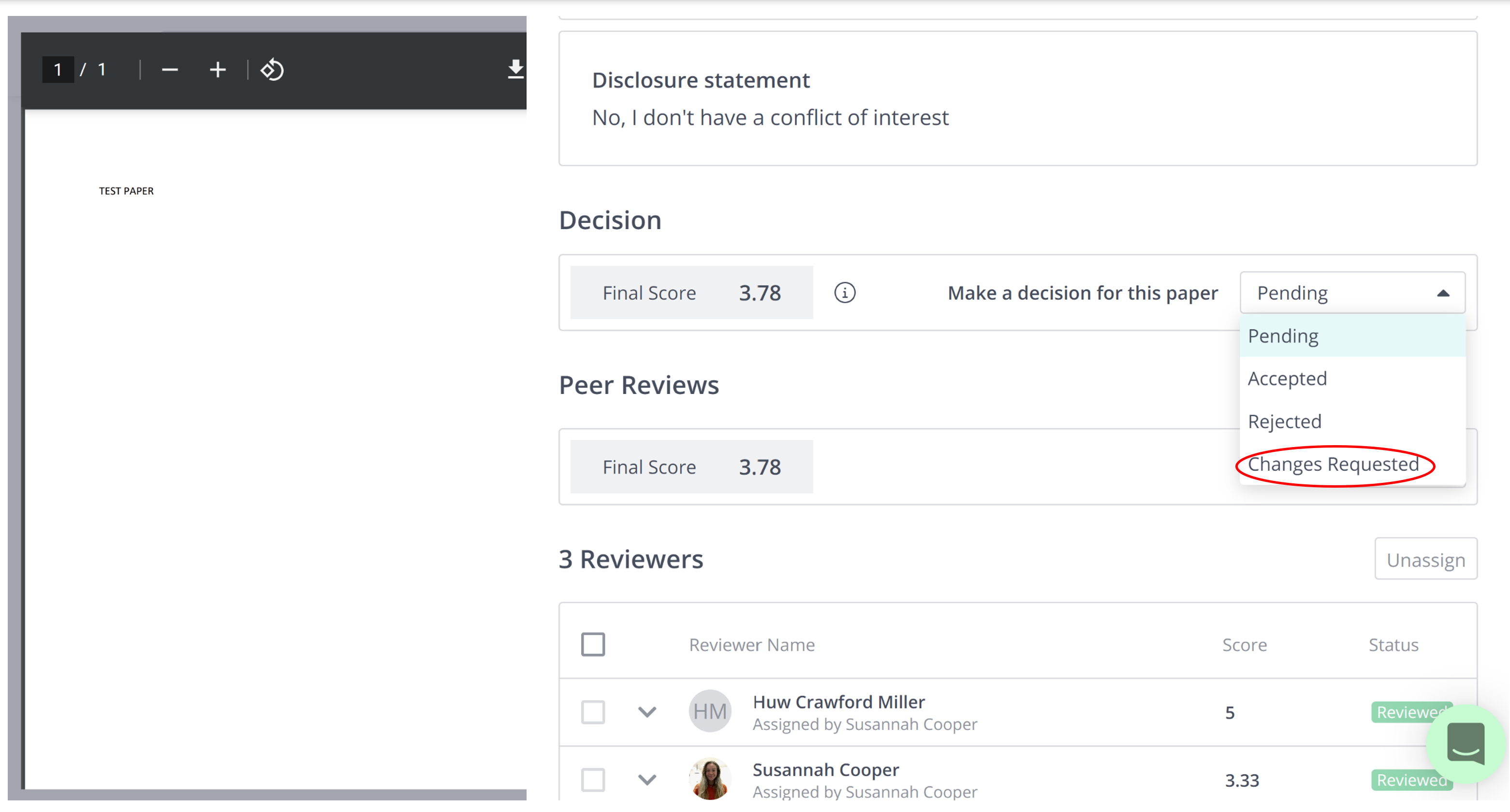 You will then be presented with a pop up box to determine the resubmission deadline for the author, and attach any further comments you may have for them.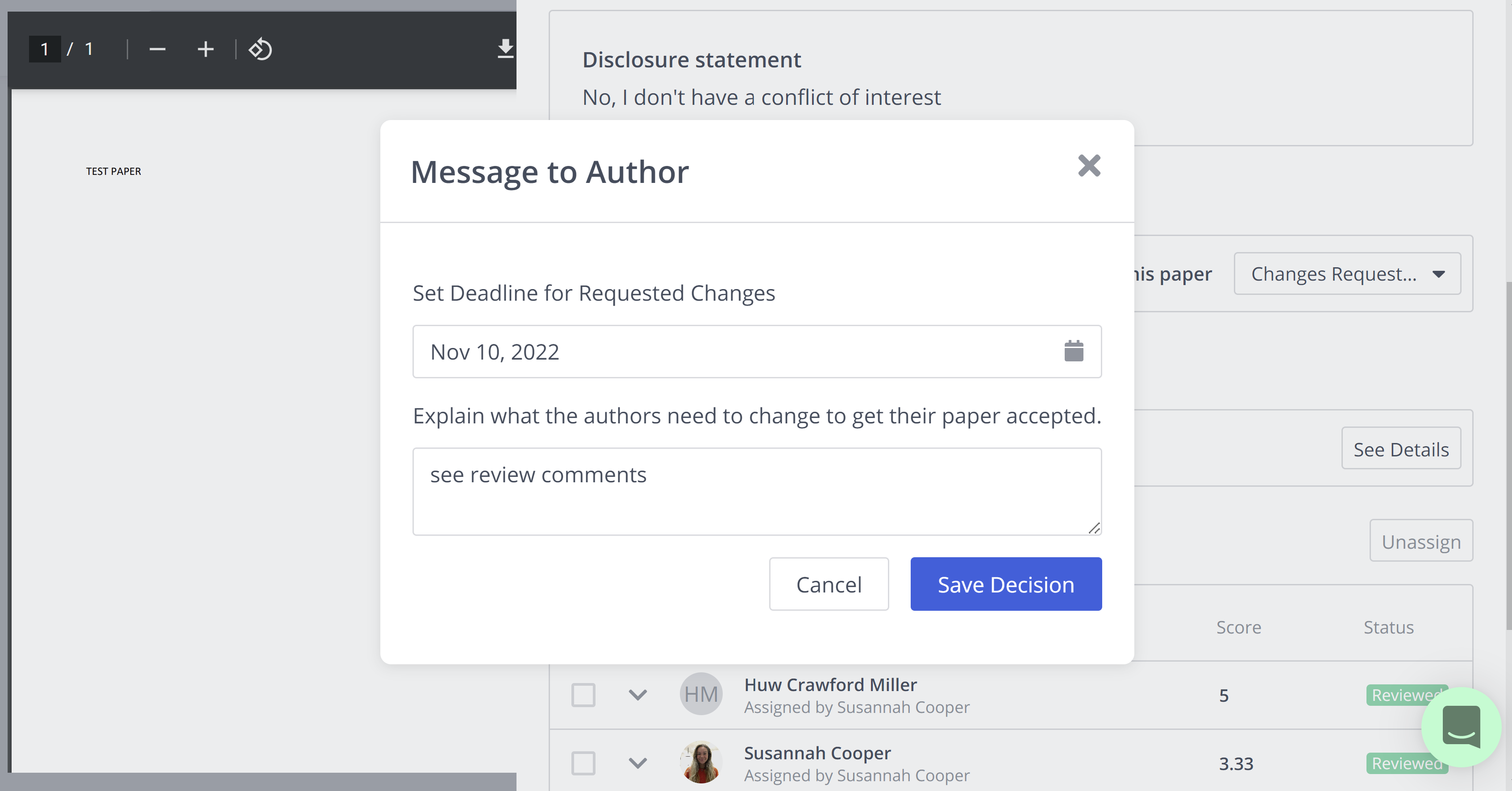 You will then need to let the author know that the status of their paper has been changed, and that they will need to make changes to their paper. You can do this by selecting the 'Notify Author' button.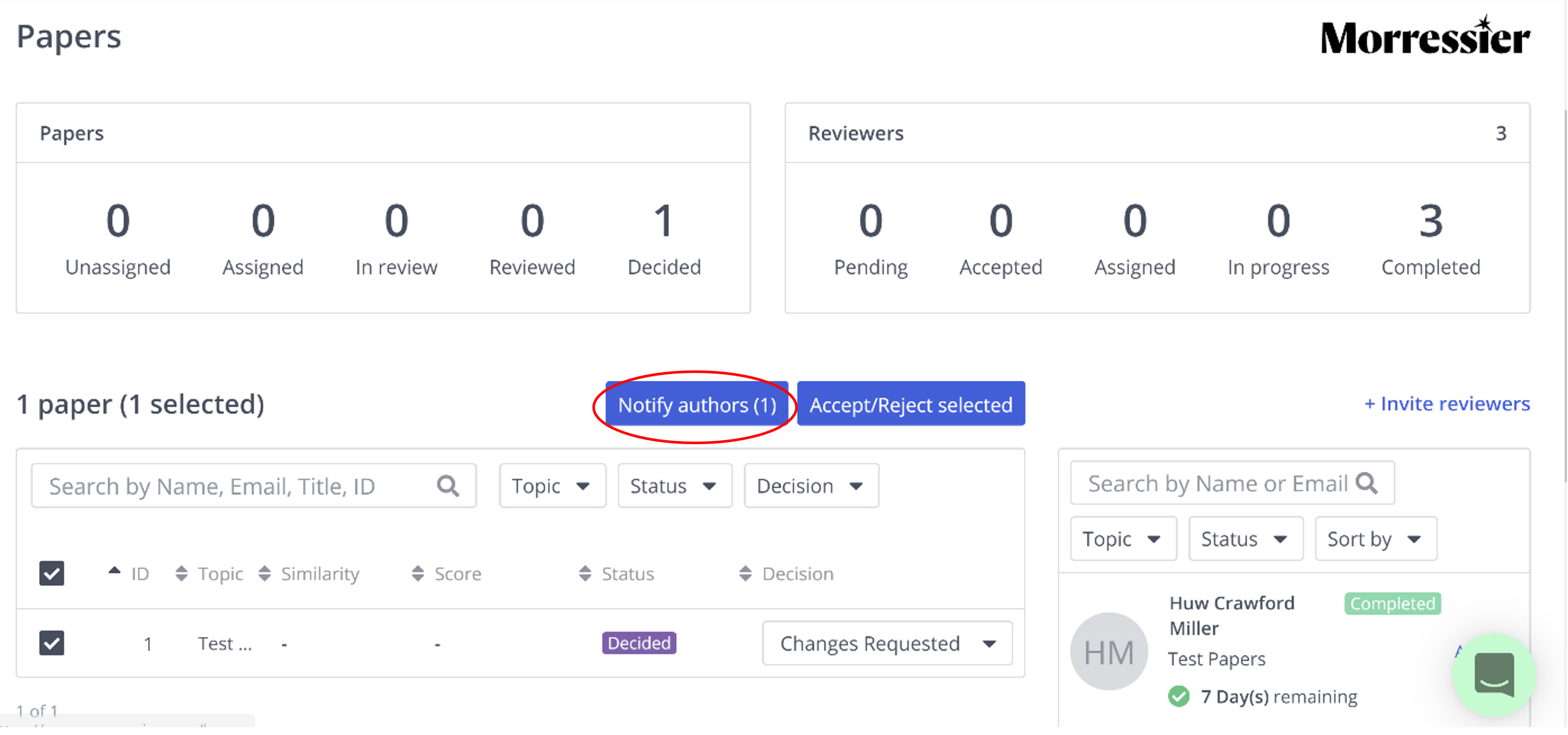 Once the author has resubmitted their paper, the status of this will change in back office to 'Resubmitted' as shown here: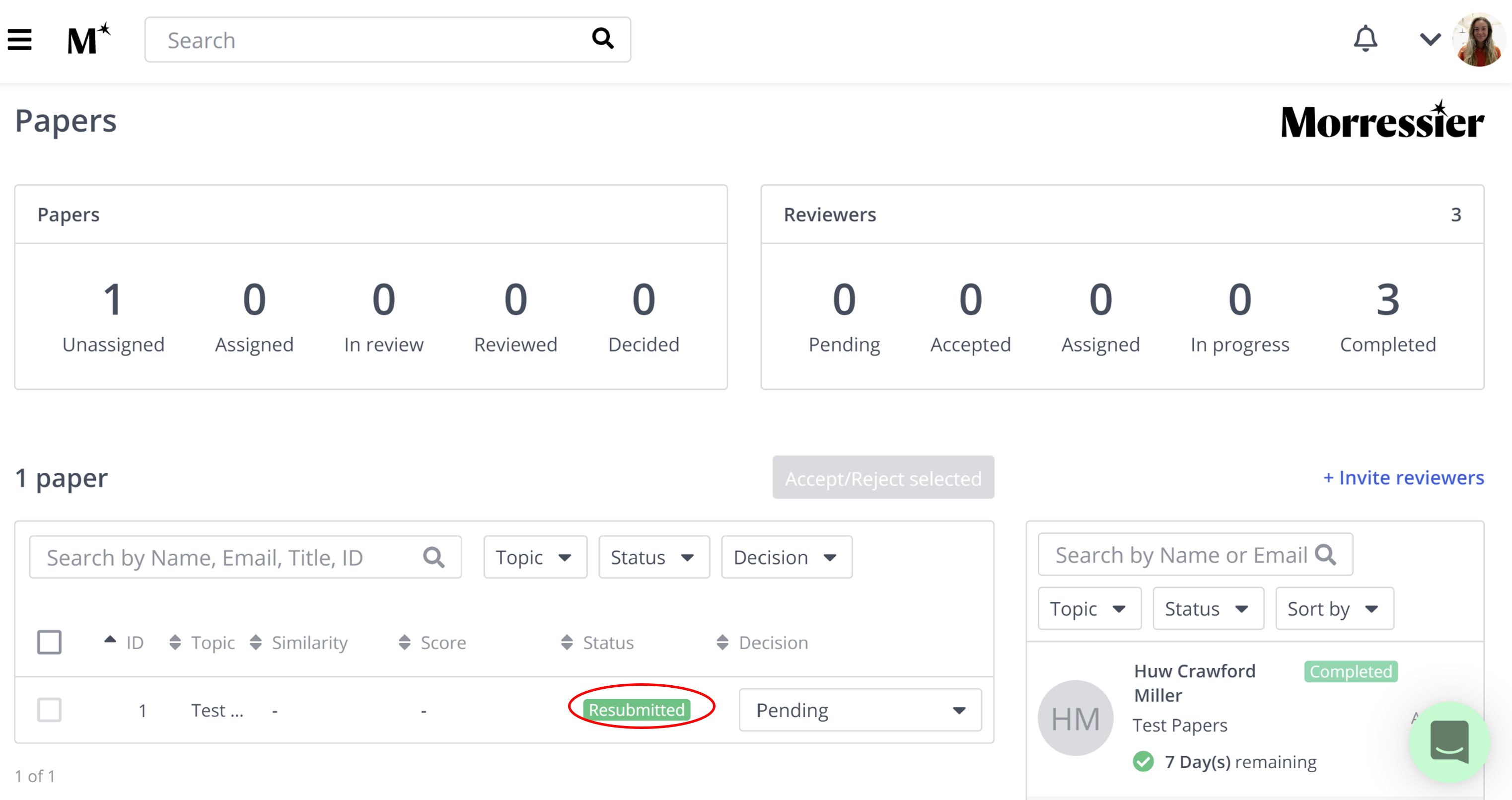 By clicking on this paper, you will see the option to 'Request another Review':
By selecting this, you will be presented with a pop up box that will allow you to select the reviewers you wish to complete a second review (1).
For example, here we have not requested a second review from Huw Crawford Miller, as he was already satisfied with the paper as it was.
You can view the breakdown from each reviewer here by clicking 'See details' (2). Once you have selected your reviewers for a second review, you may select 'Request Review' (3).
This will trigger a notification to the reviewers that they have been requested to complete another review.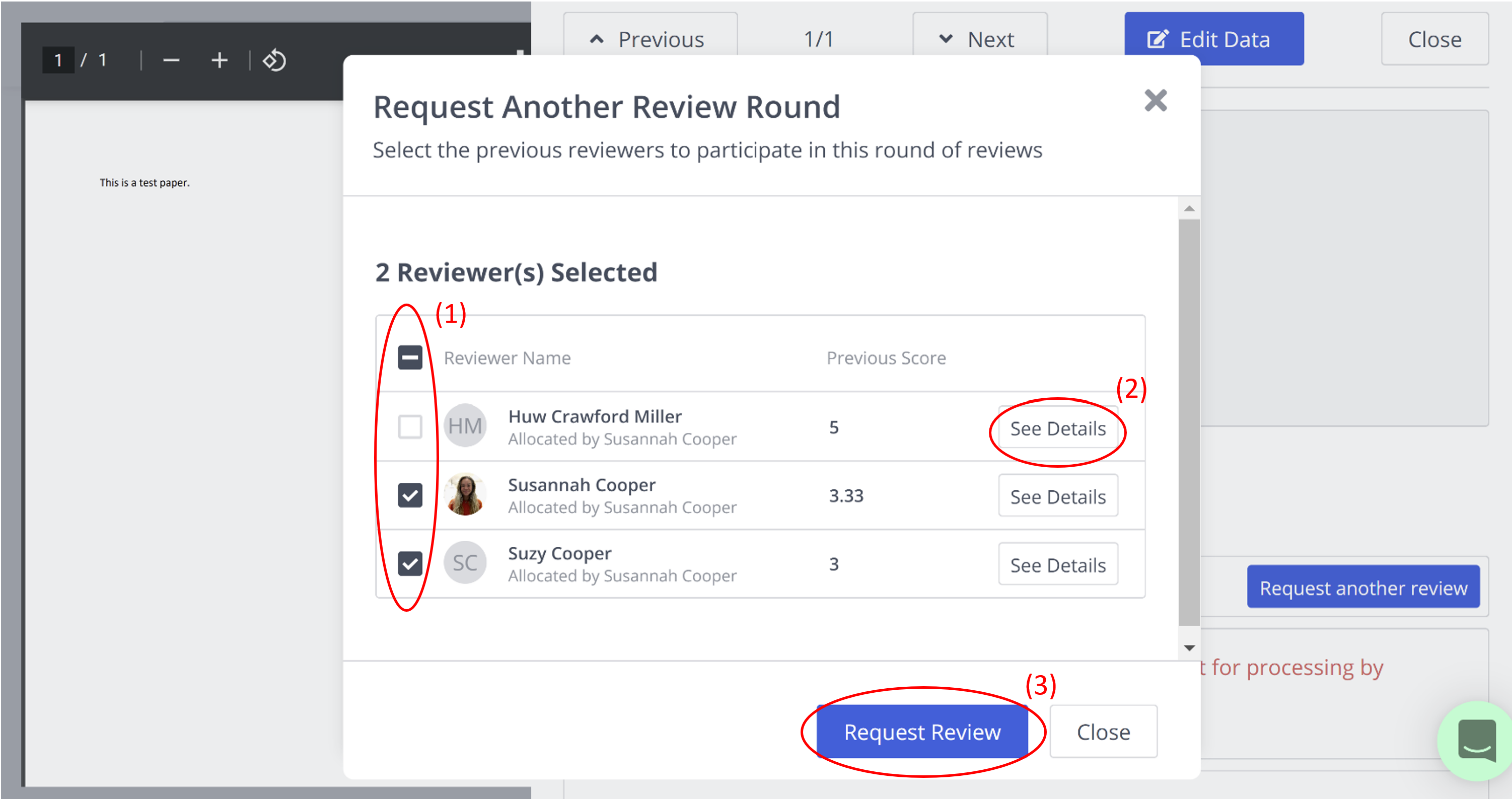 The paper will now be shown in back office with the current number of reviewers in the review cycle (1).
You can still request another review from other reviews left out of this round of reviews by clicking 'Request another review' (2):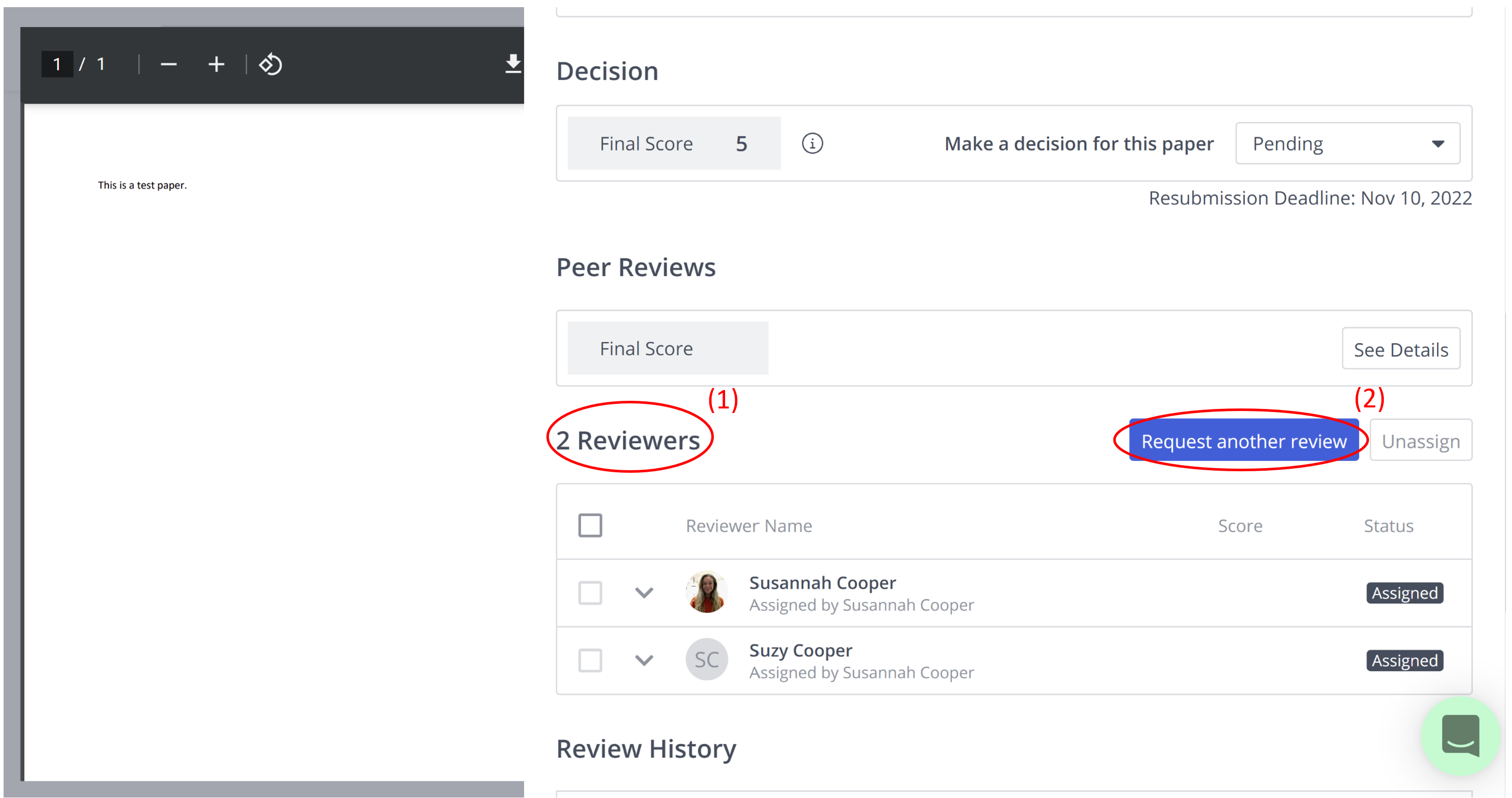 The details of all the previous reviews for this paper can be found at any time under 'Review History' by clicking 'Show Details' as shown: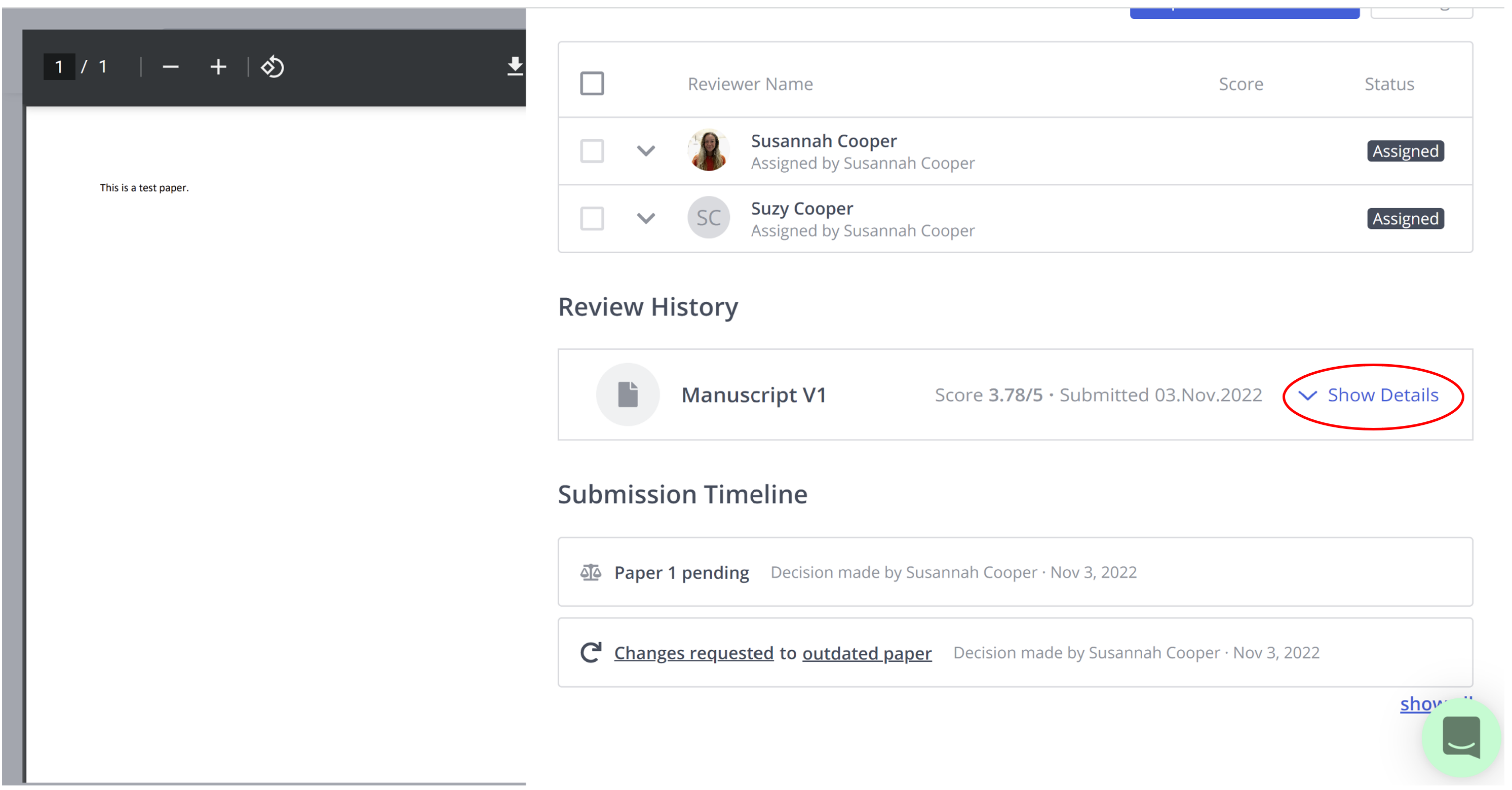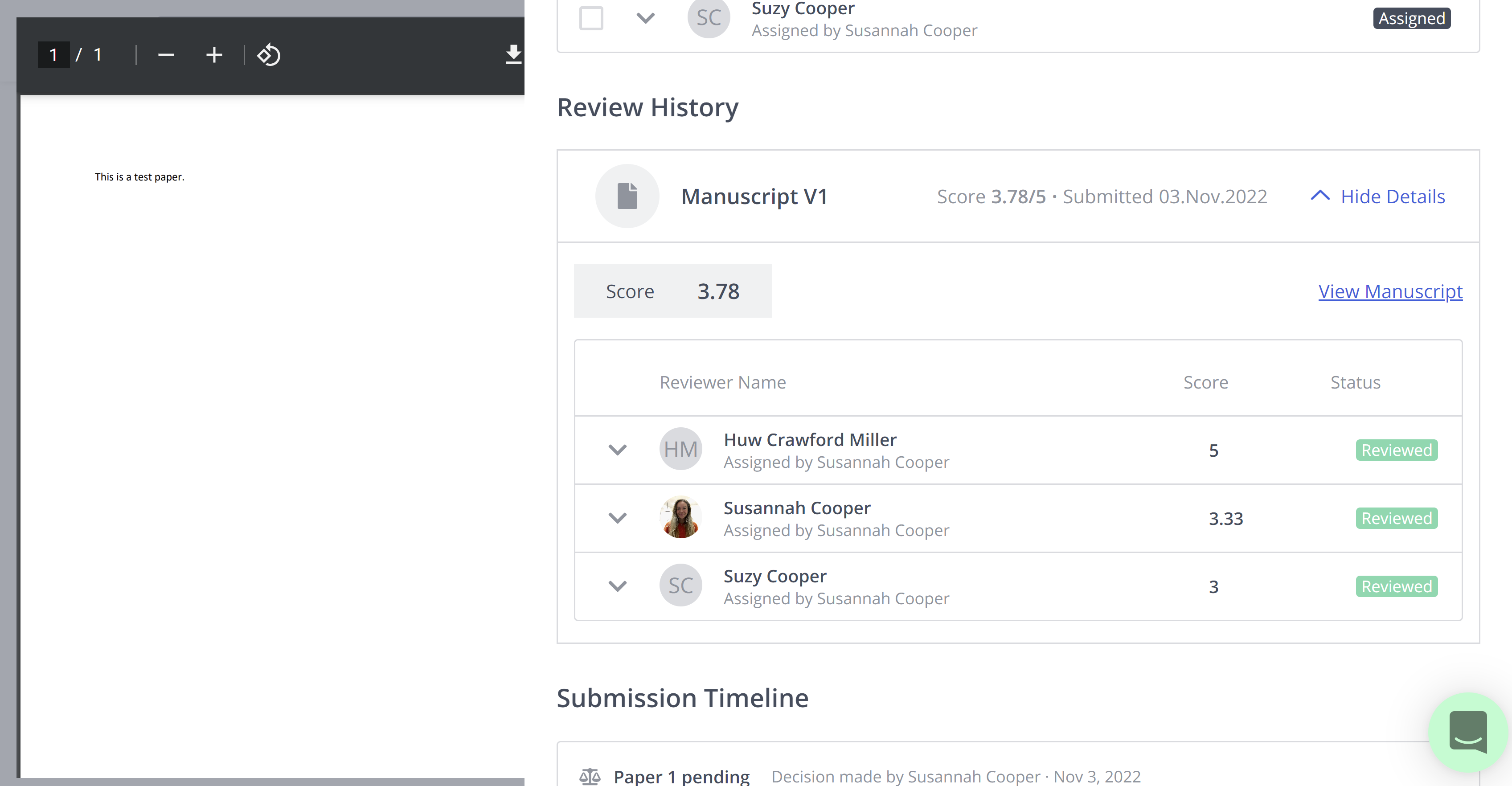 This process can be repeated until you are content with the quality of the submission.
As the organizer, you do not have to wait for all reviewers to complete their reviews. If you decide that you are happy with a paper, you can update its status to 'Accepted' whenever you like. Just ensure that you follow this up by clicking 'Notify Authors'.
If you need further support, please get in touch with us using the chat icon in the bottom right corner, or email us at support@morressier.com