What happens if I upload a poster in the wrong orientation?
It is important to follow the guidelines set by the Conference Organizers. With ePosters, there will be ePoster Terminals (an iPad & screen) rather than the physical Poster Boards you might be used to.
Please refer to (this article) to see what our ePoster Terminals may look like at the conference.
The poster orientation specified in the guidelines is the same orientation that the TV screens will be set to at the Conference. Please refer to the diagram below: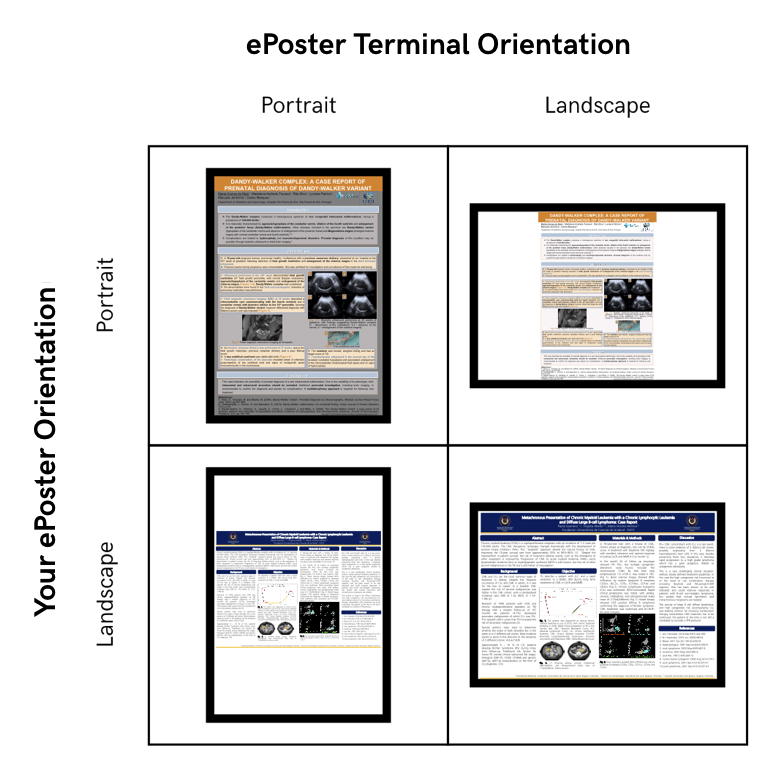 As you can see, if you upload a Portrait Poster to a Portrait Orientation Conference, your ePoster will fill the entire screen. However, if you upload a Landscape Poster to a Portrait Orientation Conference, the aspect ratio will remain the same while white space will be created to make the poster fit, which would not be optimal. The same applies vice-versa.
Therefore, even if the orientation of your ePoster is incorrect it will still be displayable at the Conference. However, should you have created your ePoster in the wrong orientation, we still highly recommend you re-create your ePoster in the correct orientation as some Conference Organizers are very strict with their guidelines.
Depending on the Organizer, posters not appearing in the correct orientation may be disqualified from receiving awards, and in some cases removed from the programme entirely.
If you need further support, please get in touch with us using the chat icon in the bottom right corner or email us at support@morressier.com