How to notify authors on the status of their paper, and extend their resubmission deadline
Once the papers for your conference have been submitted and reviewed, an informed decision about the paper can be made. As an organiser, you will be able to do this from the 'Papers' tab within your event.
Once the papers have been reviewed, the score for them will be updated (based on the scoring system determined in your 'Review Settings'). By clicking on the paper, you will be able to see what the reviewers have noted about the paper in more detail, as shown: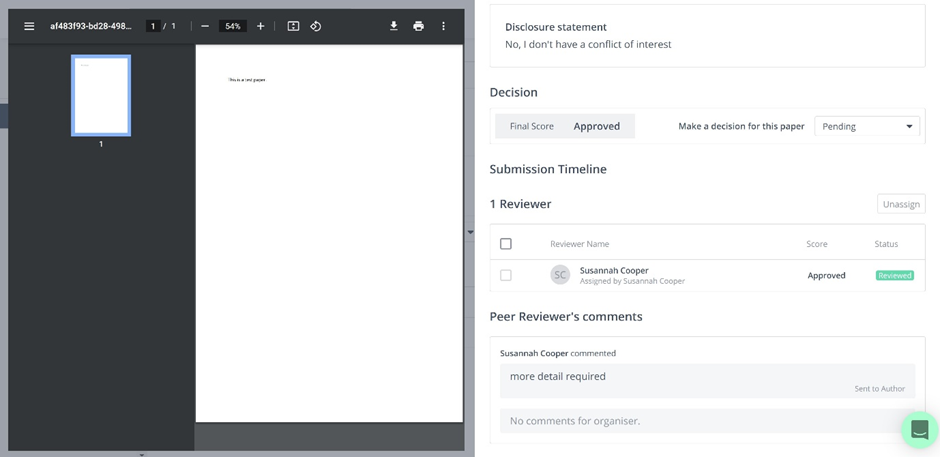 Having read the feedback from reviewers, you can update the 'Decision' on the paper. You can do this from the drop-down menu as shown: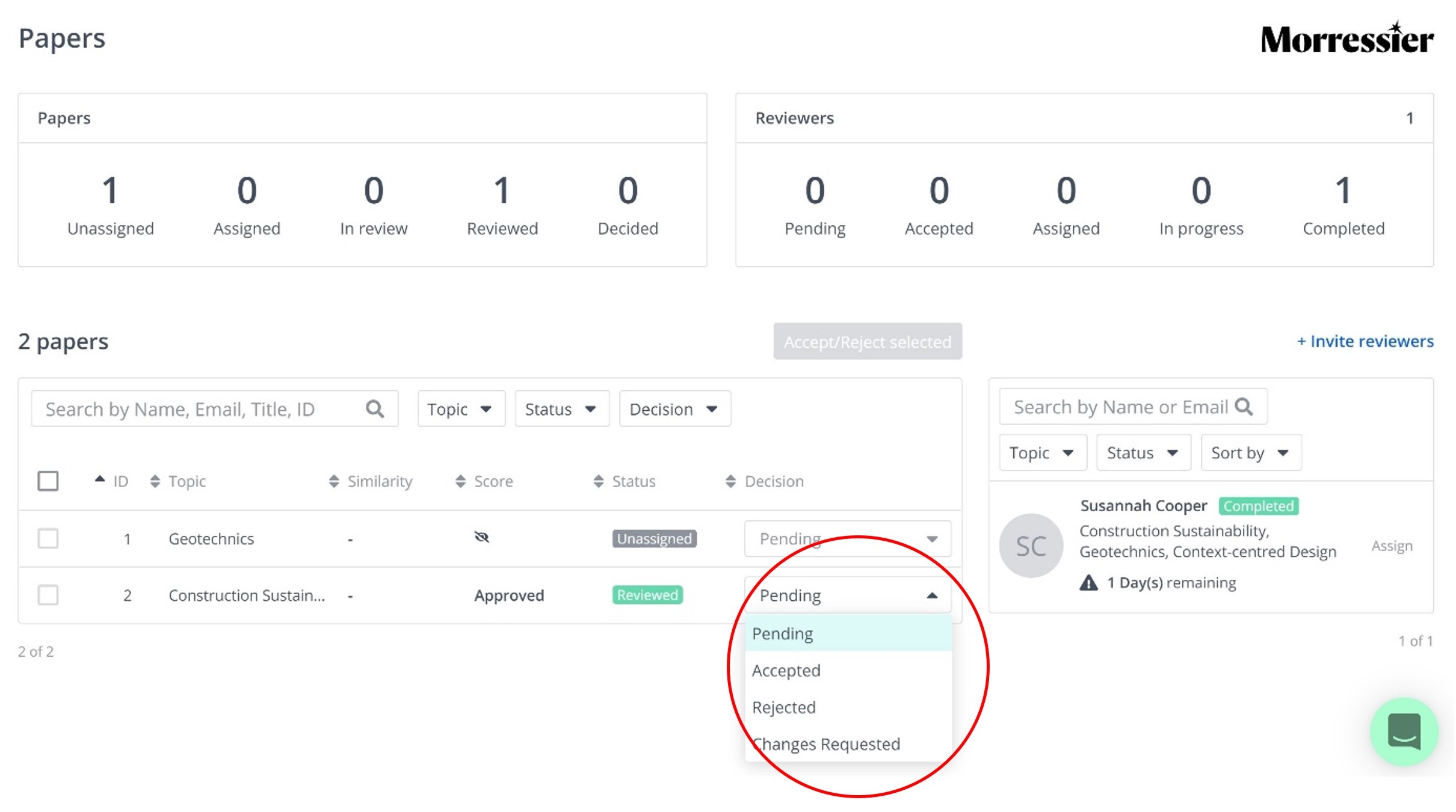 You can change the decision to one of the following:
Accepted – the paper is fine as it is and does not require any edits.
Rejected – the paper is not accepted by you regardless of any changes made.
Changes Required – the paper could become 'Accepted' if certain changes are made.
If selected 'Changes Requested', you will be presented with a box to explain any edits the author will need to make. You will also have to set them a deadline by which they must make these changes, as shown:

Once one of these three decisions has been selected, the status will turn to a purple 'Decided' and a blue button will appear reading 'Notify Authors' above the list of papers as shown here:

By clicking this button, you will be notifying all authors who have had changes made to the decision on their paper. They will automatically be sent the comments from reviewers. You will be presented with a confirmation box which looks like this:

You may change the decision on papers as many times as you like. Each time you do this, a new 'Notify authors' button will appear. You will need to ensure that you press this each time to ensure that authors are up to date with the status of their paper.
EXTENDING THE DEADLINE FOR AUTHORS TO REUPLOAD:
To extend the deadline for which an author may reupload their paper, you will need to change the decision from 'Changes Requested' to 'Pending' from the drop-down menu as shown:

You will then need to change the Decision back to 'Changes Requested'. This will present you with a new box to add comments and set a new deadline for the author, as shown:

Again, once this is done, a blue 'Notify Authors' will reappear. You will need to click this so that the author is aware that their deadline has been extended.

If you need further support, please get in touch with us using the chat icon in the bottom right corner or email us at support@morressier.com