Technical recommendations on device types, microphone and camera use, and screen sharing.
Important Information About Institutional Computers and Internet Connections
We strongly recommend not to use institutional (or company) computers or internet connections. These often have specialized privacy and permissions settings that can only be updated by the institution's IT department.
Such settings include measures that prevent the Morressier platform from utilizing the camera or microphone, and from allowing the user to share their screen. Therefore, we recommend presenters and chairs make use of their own personal laptops or computers.
---
Audio, Video, Microphone, Screen-Sharing
Check that you can access your computer's camera, audio, microphone, and screen-sharing functions and access settings.
Your laptop's built-in camera and microphone will be the default setting, and we recommend keeping this, rather than utilizing any external hardware.
For desktop setups, external webcams and headsets with microphones can be used. If a user does not have an external webcam or microphone, they should not use a desktop.
Please use headphones where possible to minimize background noise and remain on mute when not speaking.
---
Non-Laptop Devices and External Screens
External screens (i.e. monitors connected to your computer or laptop) should not be used as they do not have a proper camera, microphone, audio inputs, or screen-sharing capabilities.
Non-laptop or non-desktop systems, such as phones, iPads, or Microsoft Surface RTs, are not yet fully compatible with the platform, and should also be avoided.
---
Settings and Permissions
Each presenter and chair must allow their browser and www.morressier.com permission to use their camera and microphone and to also record their screen in order to participate on the platform.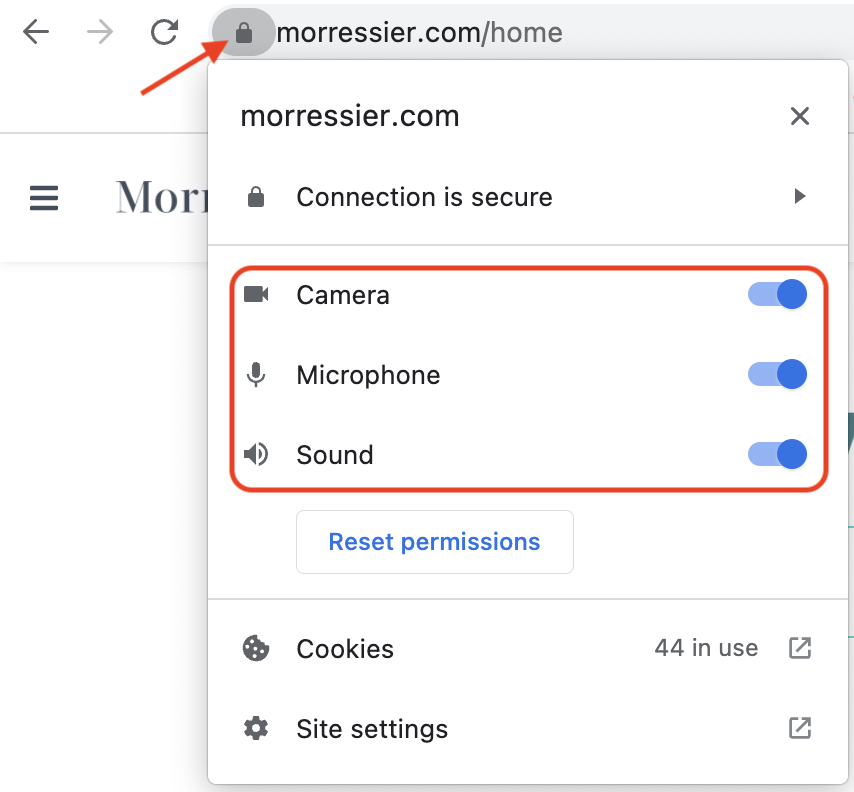 It is recommended to check your system preferences - camera, microphone and screen recording - before joining the session. The step-by-step instructions on how to do it, either for Mac or Windows, can be found online.
---
Test Your Equipment
It is the responsibility of all presenters and chairs to test any equipment on the days before the meeting starts. The backstage area will be available the week before the start of the conference, and there presenters and chairs will be able to test their functions and equipment.
Please remember to join the backstage at least 20-30 minutes before your session starts! Our dedicated Morressier technician will be there to assist you in case of any additional problems.
If you need further support, please get in touch with us using the chat icon in the bottom right corner or email us at support@morressier.com